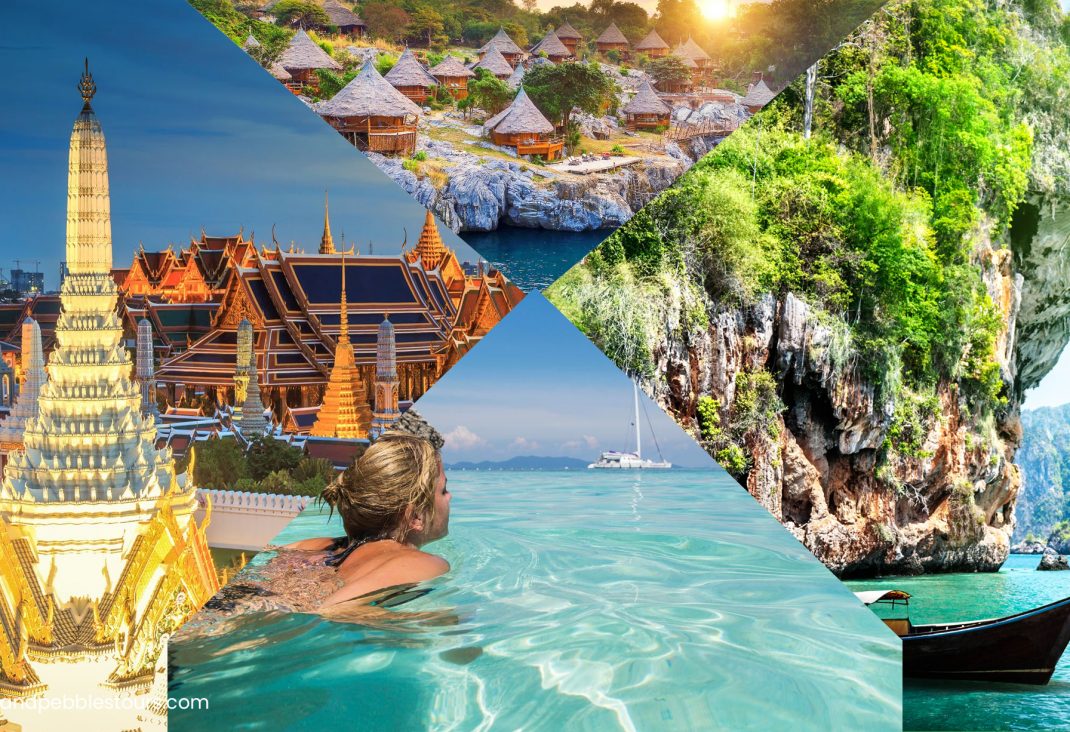 Thailand is one of the gems of Southeast Asia, a burgeoning cultural colossus, famous for its friendliness, flamboyance & food. Thailand speaks for itself. When you hear its name, you already think about beaches, beauty, jungles, and food. And your thoughts are spot on.
Thailand has a lot to offer travellers – no matter your budget. You can backpack Thailand here on a limited budget or you can live the luxurious travel life in fancy resorts on the beach. Or just travel on a modest budget and get a lot of bang for your buck. The country has something for everyone. Here's your Backpacking Thailand Travel Guide For 2019.
Why Visit Thailand?
Thailand is the travel hub of Southeast Asia. Most visitors coming into the region fly into Bangkok and make that their base for doing the circuit as they backpack around Southeast Asia.
Thailand Travel Guide For 2019
EAT! – Street Food: Thailand's street food is the best in the world! From a steaming bowl of goyteow (noodle soup) to a plate of Pad Thai, a delicious Penang curry or a spicy Pad Krapow (stir-fry basil), there are hundreds of dishes to try! Just sprinkle some peanuts, add vinegar and chilli!
DRINK! – Fruit Shakes: Fresh coconut and mango shakes for less than a dollar, add a splash of rum and make it a cocktail. Fruit shakes are a deliciously refreshing drink in Thailand's sweltering heat.
WEAR! – Fisherman Pants: You wouldn't be seen dead in them at home, but in Thailand, elephant print fisherman baggies are every backpacker's favourite garment! Perfect for overnight buses, lounging in the hostel or slipping on at temples to cover up.
BEWARE! – Snobby Backpackers: If you love getting off the beaten track and you've got the impression from a snobby backpacker that Thailand is too touristy, think again! If you know where to go, it's so easy to get away from the crowds. Our off the beaten track destination guides will help you with that.
1. Exploring Northern Thailand is Great For:
Travellers on a budget. (The north is cheaper. While a plate of noodles will cost you 50 Thai Baht in the South, the same bowl will cost you just 30 Baht in the north.)

Mountain and Nature Lovers: This route takes in amazing mountain scenery, offers the opportunity to visit ethnic minority villages, go trekking and caving.

Those seeking the 'real Thailand': While we hate the word 'authentic', many parts of the north are less touristy than the south and offer a real local experience for travellers.
2. Southern Thailand Backpacking Route!
Like most backpacking Thailand routes, this one begins in Bangkok. You'll spend a few days in the capital before catching an overnight train south to Chumphon.

Take a ferry to the island of Koh Tao, the most popular place in Thailand to learn to dive. Spend a few days getting your Open Water Course (PADI or SSI), try snorkelling or just chill on the island's beautiful beaches.

From here, catch the ferry just one hour to Koh Phangan where you can experience the Full Moon Party (if the timing is right) or explore the completely different yogi scene of the west coast.

Catch a ferry back to the mainland and head for the awesome Khao Sok National Park for jungle adventures and elephant spotting!

Take a minibus to Krabi and head to the drop-dead gorgeous Railay Beach. Learn to rock climb, trek to a lagoon. Catch a boat to Koh Lanta for some serious beach time.

Pick a paradise island of your choice in the Andaman Sea and play castaway for a few days.

From here, you can head to the island of Koh Lipe and onward to Malaysia or fly back to Bangkok from nearby Krabi Airport.