Do you know, 29% of Odisha's population is tribal? If you're one of the people, who love meeting new people and discovering new cultures, Sand Pebbles' Odisha Tribal Tour is your go-to option. With 62 different tribes to explore, Odisha tribal tour focuses on the age-old traditions, indigenous culture and tribal villages. Set out on an inconceivable journey to the tribal locations, with Odisha Tribal Tour, offered by Sand Pebbles and have a nearby perspective of the long-standing society and customs. Spending an evening, as the tribal people dance to the tunes of Dhemsa can be a real-life experience. You can also enjoy the weekly market in the tribal towns with our Odisha Tribal Tour.
Get ready to set out on a journey, way beyond your imagination and get a look at the rich culture and conventions of an ancient Odisha and have an extraordinary and unforgettable experience. Challenge yourself on an adventure which not only will give you a lifetime of travel experience but also be a learning experience. The Tribal Village Tour combine nature, scenery, folklore, ceremonies, dances, rituals, art, handicrafts and tales. The small colony of people, who are known as tribes are always curious about metropolitan people, and vice versa.
Sand Pebbles' Odisha Tribal Tour offers Odisha Tribal Tour Packages and Odisha Village Tour which will set you on an adventurous journey.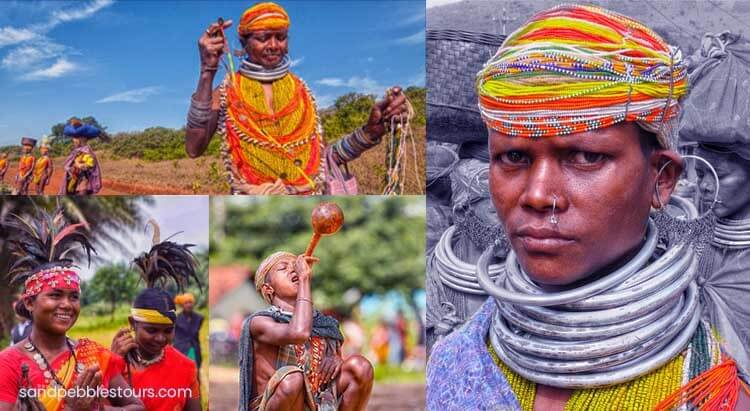 BHUBANESWAR – TAPTAPANI – VISAKHAPATNAM
Price: 180045 INR (13 Nights Program|Tour Code: 002)
DAY 01: ARRIVAL
Arrival at Bhubaneshwar Airport/Railway Station and transfer to hotel. Afternoon visit to local temples – Lingaraja, Parsurameswar, Mukteshwar, Brahmeswara & Raja-Rani Temples. Overnight at Bhubaneswar.
DAY 2: BHUBANESWAR – PIPILI – PURI
After breakfast drive to Puri visiting Dhauli (Shanti Stupa), Hirapur (64 Yogini temple), Pipli (Applique work village) & Raghurajpur (Painting village). On the way also enjoy the Chita-paintings on the walls of the houses. Overnight at Puri.
DAY 03: PURI – KONARK – PURI
Early Morning visit Lord Jagannath Temple, Gundicha Temple and Loknath Temple. Afternoon visit to Sun Temple of Konark(also called as Black Pagoda), Chandrabhaga Beach and fishing villages. Overnight at Puri.
DAY 04: PURI – CHILIKA LAKE – GOPALPUR
The morning after breakfast drive to Gopalpur via Barkul. Scenic Chilika will appear on the way near Barkul. Visit the lake to see the fishermen on fishing looking for prawns, mackerel and crabs. Continue to Gopalpur. Overnight at Gopalpur.
DAY 05: GOPALPUR – TAPTAPANI – RAYAGADA
After breakfast proceeds to Rayagada en-route visit to hot sulphur spring at Taptapani and Tibetan Settlement camps at Chandragiri. Overnight at Rayagada.
DAY 06: RAYAGADA – PUTASINGH – RAYAGADA
After breakfast, visit Soura Tribal Market, then back to Rayagada. Overnight at Rayagada.
DAY 07: RAYAGADA – KOTHAGARH
After breakfast excursion to the Tumudibandha areas to visit Kutia Kondh Tribes. While returning visit to their market at Kotgarh. On the way, if time permits, visit Dhokra Casting and Tribal Jewellery making a place. Overnight at Rayagada.
DAY 08: RAYAGADA – JEYPORE
The morning after breakfast visit to Dongria Kondh Tribal market at Chatikona and then drive to Jeypore visiting a few Desia Kondh and Mali Tribes on the way. Overnight at Jeypore.
DAY 09: JEYPORE
After breakfast drive to Onukudelli to visit the most colourful local market of the Bonda Tribes and then visit the colourful Gadabas & Didayee Tribes. Overnight at Jeypore.
DAY 10: JEYPORE – KUNDULI – JEYPORE
Morning proceeds to witness the biggest tribal weekly vegetable market of Sanaparoja & Mali tribes in Kundli 65 KMs away via Sunabeda(it is a very colourful market). Then drive to Jeypore visiting Lord Jagannath Temple and Tribal Museum at Koraput. Overnight at Jeypore.
DAY 11: JEYPORE – GUPTESWAR – BALIGAON – JEYPORE
After breakfast, drive to Gupteswar to visit Lord Shiva Temple and few Dhruba Tribes. Then their weekly market at Baligaon. Overnight at Jeypore.
DAY 12: JEYPORE – VISAKHAPATNAM
After leisurely breakfast, drive to Visakhapatnam. Afternoon free on the beach. Overnight at Vizag.
DAY 13: VISAKHAPATNAM
After breakfast visit to Simhachalam Temple. Rest of the day free. Overnight at Vizag.
Day 14: DEPARTURE
After breakfast, transfer to Vizag Airport / Railway Station for onward journey.