Sri Lanka, formerly known as Ceylon, is a small island south of India, in the Indian Ocean, but that's the only small thing about the beautiful country. With our Sri Lanka Tour from Bhubaneswar package, you'll get to witness the breathtaking scenes in Sri Lanka. Its various scenes extend from the rainforest and bone-dry fields to good countries and sandy shorelines. The country boasts an ancient civilization, golden sandy beaches with their swaying coconut palms, mountains, and rubber and tea plantations. With Sand Pebbles' Sri Lanka Tour from Bhubaneswar, you can get all the mind-blowing experiences exploring Sri Lanka. While visiting the island, you'll see colonial architecture from the days when the Portuguese, Dutch and English ruled. You'll see lots of elephants, some of which participate in local festivals and, leopards at the wildlife sanctuary. Sri Lanka is a very rich country in terms of history, tradition, and culture. For the tourists who love to witness the history of any place, Sri Lanka offers a cultural triangle for them. The Sri Lanka Tour from Bhubaneswar will leave you awestruck with all good things nature has to offer. Sri Lanka is also known for the exotic beaches and the golden sun shining all around the year. Sri Lanka boasts of some great National Parks such as Yala National Park, Wilpattu National Park, Minneriya National Park, Udawalawe National Park and Horton Planes. The Sri Lanka Tour from Bhubaneswar will let you explore the little heaven in the Indian Ocean.
It has something to offer to every kind of tourist- Nature lover, kids, adventurous or any other kind. The growth of tourism in Sri Lanka has no sign to stop sooner or later. Book your Sri Lanka Vacation Packages now.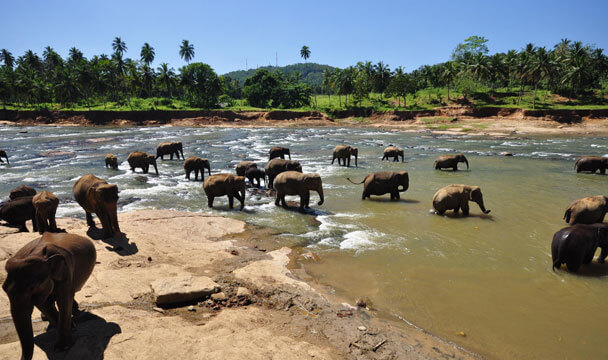 KATUNAYAKE – KANDY – NUWARA ELIYA – BENTOTA – COLOMBO
Tour Code: 1001
DAY 01: KATUNAYAKE – KANDY – 115 Kms 2.5 Hours
Arrive at Bandaranaike International Airport, Katunayake received by "Spiceland Colombo" representative and transfer to hotel in Kandy via Pinnawala.
Elephant Orphanage, Pinnawala :
The foster – home of elephants of different age and size feeding, bathing, playing together and even mating. These have been found injured or left abandoned in the wilderness. There are even little baby calves born in captivity.
Time table of the Elephant Orphanage :
08.30am Opening the orphanage for visitors
09.15am Bottle-feeding the baby elephants
10.00am Morning bath at 'Ma Oya'
12noon Elephants return to the orphanage after the bath
01.15pm Bottle-feeding the baby elephants
02.00pm Afternoon bath at 'Ma Oya'
04.00pm Elephants return to the orphanage after the bath
05.00pm Bottle-feeding the baby elephants
06.00pm Closing the orphanage for visitors
Spice Garden in Hingula (Kandyan Spice 99) :
Located on the main road between Colombo and the hill capital of Kandy. Visit a spice garden Hingula in Mawanella to see many different types of spices Sri Lanka is famous for. Cinnamon, Cardamom, Pepper, Cloves and nutmeg have cultivated that place. In addition to individual spices, the estate sold its own version of Sri Lankan curry powder.
Temple Of The Tooth Relic, Kandy :
The Temple of the Sacred Tooth Relic of the Buddha Is the most important temple for the Sri Lankan Buddhists and was built in the 16th Century A.D. by king Wimaladharmasooriya, solely for the purpose of housing the tooth relic.
Lunch and Dinner Overnight stay at Hotel in Kandy.
DAY 02 : KANDY – NUWARA ELIYA – 77 Kms – 3.5 Hrs
Breakfast at Hotel in Kandy & leave for Nuwara Eliya via Peradeniya and Ramboda.
Royal Botanical Garden, Peradeniya :
This was a pleasure garden of a Kandyan King of the 16th Century and later made into a Botanical Garden during the British regime.
Operating Hours: 7.30am – 5.00pm (daily)
Restaurant and café: 10.00am – 5.00pm
Gem Museum ("Tiesh" by Lakmini) :
Tiesh formally known as Lakmini Pvt Ltd has been a legendary haven for precious stones and exquisitely handcrafted jewellery of the finest quality over the year. Among the array of Sri Lankan precious stones infamous the world over are Blue Sapphires, Star Sapphires, Rubies, Star Rubies, White Sapphires, Yellow Sapphires, Cats Eye, Etc.A unique feature of the establishment is a simulated Gem mine used to source precious gemstones in Sri Lanka. Ideally located in the very heart of Sri Lanka in the picture-perfect city of Kandy "Tiesh" Caters to all segments of clientele. Tiesh by Lakmini has been at the forefront of modern- contemporary designs in jewellery since its inception in 1997.
Mackwoods Labookellie Tea Centre :
Situated approximately 1500 meters above sea level in the heart of Labookellie Estate, one of the finest tea plantations in Sri Lanka, is today a popular stop in an international travellers itinerary providing an opportunity to experience Mackwoods Tea at its best in the salubrious hill country clime as well as providing an instructive glimpse of the manufacture of Ceylon Tea. The Labookellie Tea Centre which has for long been a popular land mark amongst both locals and tourists to Nuwara-Eliya from Kandy for their requirements of garden fresh high-quality Labookellie Tea. This Tea Centre has been expanded and refurbished to give its many visitors & customers better service in a more comfortable setting. Mackwoods provides visitors with a free guided tour of Labookellie tea factory, an educational experience in the tea cultivation and manufacturing process.
Ramboda Falls :
Gliding swiftly down mountain slopes, thick forests and valleys of Tea Estates, small convergent brooks in the central highlands give birth to some of Sri Lanka's most magnificent waterfalls, one of which is the "Ramboda Waterfalls " in Nuwara Eliya. Cascading down at an altitude of 3200ft. the Ramboda Falls brings pride and glory to this beautiful island making Sri Lanka a popular tourist destination for both the romantic escapee & nature lover.
Lunch and Dinner Overnight stay at Hotel in Nuwara Eliya.
DAY 03: NUWARA ELIYA – BENTOTA – 240 Kms – 5.5 Hours
Breakfast at Hotel in Nuwara Eliya and leave for Bentota
Leisure
Lunch and Dinner Overnight stay at Hotel in Bentota.
DAY 04: BENTOTA – COLOMBO – 65 Kms – 2 Hours
Breakfast at Hotel, Bentota and leave for Colombo
Turtle Hatchery, Kosgoda :
Projects have been launched to conserve the population of turtles that are reaching extinction and such projects are found along the southern coast of Sri Lanka where turtles come ashore to lay their eggs. The turtle digs a hole on the Beach, Lays her eggs and covers it with sand where it is supposed to, incubated by the heat of the sun. What often happens is, the eggs are dug out by fisherman and sold to people who consume them. But now the eggs are bought up by the conservation projects and are hatched in a natural way in enclosed areas where the birds don't have a chance of picking them up and the babies are let into the sea after two days at night time which offers them a better chance of survival.
Colombo City Tour :
Drive through the commercial and city centre area known as the Fort, built by the Portuguese in the 16th century. Visit the busy markets and bazaars of Pettah, visit a Buddhist and a Hindu temple, an old Dutch church and continue to the Cinnamon Gardens residential area. Drive past the Town Hall, Independence Square and the B.M.I.C.H (International Convention Centre).
Shopping :
Shopping at; (upon interest)
model house of Fashion
Paradise RoadBare foot
Stone-n-stringCrescat
Majestic cityLiberty Plaza
Beverly StreetLaksalaetc.
Lunch and Dinner Overnight stay at Hotel in Colombo.
DAY 05: COLOMBO – KATUNAYAKE – 37 Kms – 1 Hour
Breakfast at Hotel in Colombo.
According to your flight time leave for Bandaranaike International Airport, Katunayake for Departure. End of tour.
End of tour.