07 Nights Program
( Raipur – Kawardha – Raipur – Kanker – Kondagaon – Narayanpur – Kanker – Jagdalpur – Kanker – Kanger Valley National Park – Jagdalpur – Raipur )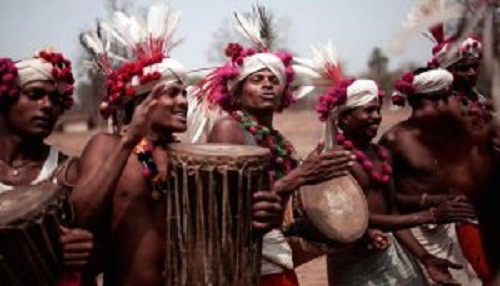 DAY 01 : : RAIPUR – KAWARDHA
Our representative will meet you at Raipur from where we will drive 120 km. North in a luxury vehicle with double A/C to the former Princely State of Kawardha. You will be transferred to your Palace suite before lunch in the State Dining Room. In the afternoon tour to Palace Kawardha and nearby cultural sites, including the captivating Bhoramdeo temple complex. Your return to the Palace at sunset is followed by a welcome drink to meet the royal family, with traditional Chhattisgarhi dance entertainment and then dinner & Overnight.
DAY 02 : : KAWARDHA
After breakfast, a well-versed Palace guide will accompany you on an introduction of the secrets of Kawardha's little-known natural and tribal world. You will meet the gentle and friendly Baiga people, the principal indigenous forest tribe. Enjoy picnic lunch with them. In evening return to Palace Kawardha precedes a royal family dinner & overnight at Kawardha.
DAY 03 : : KAWARDHA – RAIPUR – KANKER
The morning is at leisure before a 2-hour drive to Raipur and lunch in a fine city restaurant. There may be time for a short visit to Raipur's Mahant Ghasidas Museum before leaving for the former princely State of Kanker. Upon arrival at Kanker Palace the Maharaja's family will greet you and show you to your suite. Over drinks and dinner, family members will be happy to interpret and explain the folklore and tradition of the State they once ruled. They will also introduce you to a performance of the traditional music and dance of the region.
DAY 04 : :KANKER – KONDAGAON – NARAYANPUR – KANKER
After your choice of Indian or English breakfast at the Palace, the Bastar tribal experience begins. In South of Kanker you and your royal guide climb the forested Keshkal Ghat, which marks the border of Bastar 500m above the plain. You will encounter here the special nature of North Bastar with a visit to a colorful weekly MARKET. It gives you a great opportunity to meet the local people. At Kondagaon and Narayanpur discover some of Bastar's finest handicrafts, and the people who make them. Lunch will be a picnic in the deep green sal forests. Return to Kanker.
DAY 05 : : KANKER – JAGDALPUR
After breakfast, we will travel in royal luxury to Jagdalpur, Bastar's main town and former capital, three hours away. Check in into a comfortable local HOTEL, relax over leisurely lunch. In the afternoon, a royally guided tour of historical Jagdalpur and the Anthropological Museum is completed by a sunset ideally at the Chitrakoot waterfall, Bastar's very own 'Niagara' on the Indravati River. You will also visit some of the local Bison-Horn Maria tribe, renowned for their spectacular ceremonial dancing. Conditions permitting, a barbecue is served under the stars in authentic Bastar style. You will be entertained by a performance of the tribal people, before returning to your hotel.
DAY 06 : : KANKER – KANGER VALLEY NATIONAL PARK – JAGDALPUR
An early breakfast allows time for a visit to the rich forests of the Kanger Valley National Park, the enchanting Tirathgarh waterfall and the extraordinary stalactite and stalagmite caves. Kanger retains the original intensity of the forests that once covered this whole region, and you will picnic in the natural habitat of leopard, tiger, sambar, bison and the Bastar Hill Myna. Here too are forest tribal people in their natural habitat. You will also have time to explore some of Jagdalpur's unique handicrafts before dinner at the HOTEL WITH your royal guides.
DAY 07 : : JAGDALPUR – RAIPUR
You can enjoy a quiet breakfast and visit the bustling MARKETS of Jagdalpur before your return to Raipur. On the highway, we again pass several handicraft centers for those last-minute souvenirs of your Bastar Experience. Stopping at Kanker, a farewell late lunch with the Maharaja's family precedes the 2-hour drive back to Raipur. Here you will stay at the comfortable and well-appointed hotel, relax in the pool, and enjoy an excellent dinner.
DAY 08 : : DEPARTURE
A good night sleep and a light, healthy breakfast, and you will be chauffeured to Raipur Airport to check in for your return flight.