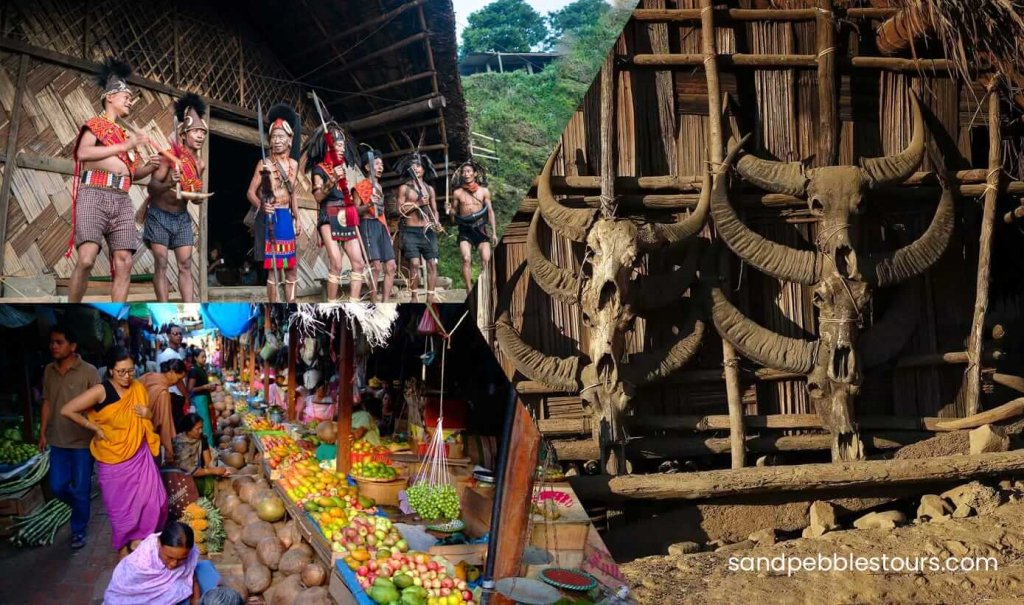 Experiencing something out of the box while travelling to your dream destination is every traveller's fantasy. Nagaland is one of the most fascinating states in North East India. The Ethnic Tribal Tour for Nagaland will take you to a place where festivals are a norm. You'll always see the tribes celebrating something and enjoying every little detail of it. That's the reason it's commonly called "The Land of Festivals". If you always wanted to experience something new and extraordinary, Nagaland should be a place bookmarked for your next holidays. Ethnic Tribal Tour for Nagaland serves an in-depth knowledge about the different tribes and their festive culture. The tribes retain much of their original and ancient customs and cultures which can be experienced during village walks and also on the occasion of indigenous festivals. Most of the rural folk were once fierce tribal warriors and headhunters, but are now peaceful farmers and occasional enthusiast hunters, the tribes live sustainable lives and utilize minimal resources. Villagers are friendly and welcome the guests with great hospitality. Ethnic Tribal Tour for Nagaland will give you an insight of all these and more. In our 10N/11D package, we will introduce you to the different tribes of Nagaland such as Angami and Konyak with whom you get to live, taste traditional dishes, experience their unique culture and perhaps learn few words of their local dialect. The cherry on the cake is the climate of this state which stays pleasant and is very apt for travelling. Come have a gala of time with your loved ones, friends or family through Ethnic Tribal Tour for Nagaland.
10 Nights / 11 Days | Tour Code: 228
DAY 01:  ARRIVE KOLKATA
Met on arrival at International airport and transfer to hotel for overnight stay.
DAY 02: KOLKATA – DIMAPUR – KOHIMA
Fly to Dimapur. Met on arrival and drive (74 km) to Kohima, Enroute stop at Zubza check post 16 km before Kohima. Later on arrival in Kohima check-in at the hotel Japfu and have lunch. In the afternoon visit to Nagaland Emporium.
DAY 03: KOHIMA – TUOPHEMA
In the morning visit Viswema Village (Angamai Tribe) and Kigwema Village. Later drive to Touphema. On arrival chek- into Touphema Tourist Village. In the evening enjoy Nagal folk music and dance.
DAY 04:  TUOPHEMA – WOKHA – MOKOKCHUNG
Morning after breakfast drive to reach Mokokchung (1325 mts) – the center of Ao Tribe. On the way stop at Longsa village for police check post and also visit LONGSA VILLAGE (Lotha Tribe) which is about 80 km before Mokokchung. Further drive to LONGKHIM village of Ao Tribe (14 KM before Mokokchung). Visit to a village house, Rock memorial, village rice mill etc. Later upon arrival in Mokokchung check-in at the Circuit house for overnight stay.
DAY 05: MOKOKCHUNG
Morning excursion to Mopungchukit village. This village is permanent Mission Centre of Ao Baptist Arogo Mungdang. Visit time pillar and Morung at the village. Rest of the day at leisure to explore the area on your own.
DAY 06: MOKOCHUNG – TUENSANG
Morning after early breakfast,drive to reach Tuensang (1371 mts). On the way stop at Chare town 60 km before Tuensang for police check-post. Enroute 30 km before Tuensang visit LONGKHIM Village of Sangtam tribe – Visit local Sangtam house and a small walk in the village. Later on arrival check-in at the Circuit house. Later in the afternoon visit TUENSANG Village of Cham Tribe, and explore around to see some of the finest traditional huts.
DAY 07 : TUENSANG – MON
After an early breakfast drive (160 km) to reach Mon via Tobu. Upon reaching Mon check-in at the ADC Rest House for overnight stay.
DAY 08: MON
In the morning visit Shangnyu village. Visit village Morong, Shangnyu village museum, Shangnyu Ang house which is close to the museum, Rock memorials etc. In the afternoon drive to Chui Village to see Wangkhao Ang House – one of the best Ang houses with beautiful decoration.
DAY 09: MON – SONARI – SIBSAGAR
Drive to Sibsagar (in Assam). It was capital of Ahom Dynasty which ruled Assam for over 600 yrs.
DAY 10: SIBSAGAR – DIBRUGARH – KOLKATA
Drive to Dibrugarh airport to board flight to Kolkata. Met on arrival and transfer to hotel.
DAY 11: DEPART KOLKATA
In the morning proceed for city tour. Later transfer to airport in time to board flight to onward destination.