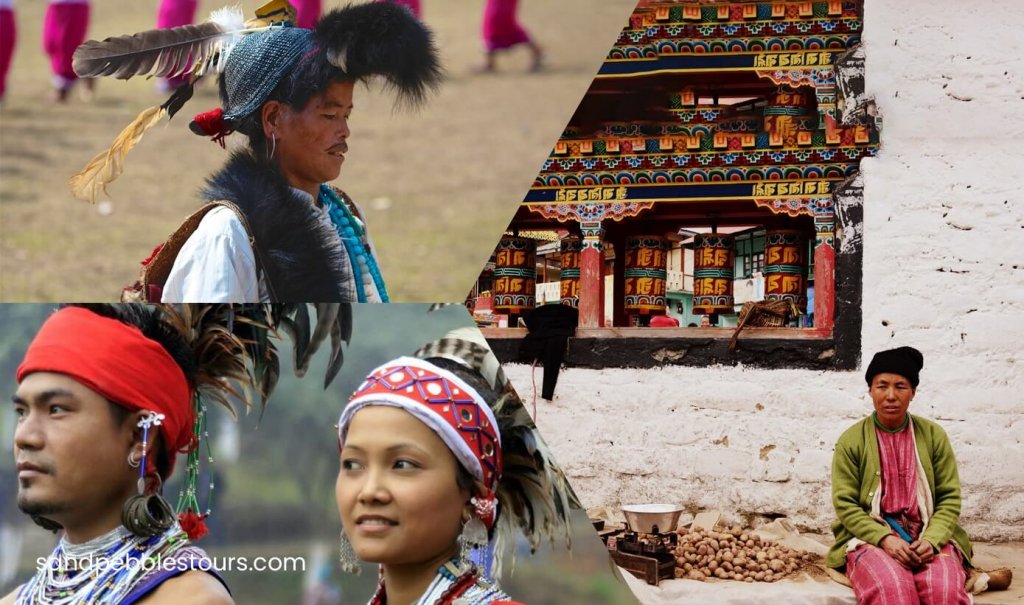 Want to get amazed by the ethnic culture and traditions of the tribes of Arunachal? Ethnic Tribal Tour of Arunachal Pradesh is going to take you through a trip of your lifetime. An experience you would hold close to your heart forever. Arunachal Pradesh is home to 26 tribes and other sub-tribes as well. Scattered across the state, the tribes of Arunachal send out the message of a strong bond with nature. In our Ethnic Tribal Tour of Arunachal Pradesh, you will have the chance to interact and peek inside the lives of some of the popular tribes of Arunachal Pradesh. These humble tribes reflect how gratitude and caring for Mother Nature can bring unsurpassed happiness and prosperity in one's life as well as land. Ethnic Tribal Tour of Arunachal Pradesh ensures to include this experience of bonding with nature and of course interacting with the tribal men and women to get a better perspective towards simple lives. It is the home to a large number of indigenous people, who are still untouched by the lifestyle of the modern world. Our Ethnic Tribal Tour of Arunachal Pradesh will ensure that you make the most of this amazing destination called Arunachal Pradesh.
09 Nights Progra|Tour Code: 130
DAY 01: ARRIVE GUWAHATI / TEZPUR (185 KMS, 4 HRS DRIVE)
Arrive Guwahati by flight. Meeting upon arrival and depart for Tezpur.
Tezpur: Modern day Tezpur, the headquarter of Sonitpur district of Assam is said to be erstwhile Sonitpur, the Kingdom of legendary King Banasura. According to the legend when Lord Krishna's armyand Banasura's army fought for the rescue of Aniruddha (grandson of Lord Krishna) who marriedBanasura's daughter 'Usha' against the will of her father there was so much bloodshed that the whole place was stained in red. This prompted to the name of the place becoming Tezpur (means the City of Blood). Modern Tezpur was founded by the British colonial administration in 1835 as the headquarters of Darrang
Arrive Tezpur and check in at hotel. Afternoon visit:
Agnigarh: According to the legend the site of the fortress was built by Banasura to keep his daughter Usha in isolation. The name 'Agnigarh' has been derived from two Sanskrit words 'Agni' (meaning fire) and 'Garh' (meaning fortress or wall). It is a hill on the banks of the Brahmaputra river and one of the big tourist attractions in Tezpur. The view of river Brahmaputra the Kolia Bhomora Setu bridge(named after the Ahom general Kolia Bhomora) is really eye catching. Rest of the time free at leisure Overnight at hotel.
DAY 02: TEZPUR / ITANAGAR (216 KMS, 5 HRS DRIVE)
Morning after breakfast, depart for Itanagar.
Itanagar: The Capital of Arunachal Pradesh, Itanagar is situated at the foothills of Himalayas. The name Itanagar is derived from the historical Ita-fort (Ita meaning brick) which dates back between 14th and 16th century. The major tribe in Itanagar is the Nishies. Situated on the top of the hills the city offers a very pleasant climate. The Capital city is being divided into two zones by 10 kms Stretch. The other part is known as Naharlagun. It became the Capital of Arunachal Pradesh on 20th April 1974.
Arrive Itanagar and check in at hotel. Overnight at hotel.
DAY 03: ITANAGAR
Morning after breakfast city tour visiting:
Ita fort: The historical Ita fort situated in the middle of the town. It is a fort of irregular shape built with more than 8 million pieces of bricks. The fort was fort of irregular shape built with more than 8 million pieces of bricks. The fort was built during Jitari Dynasty which dates back to 1360 to 1550 A.D.
Ganga Lake: Situated in the foothills of the Himalays the lake is locally known as Gekar Sinyi (confined water) One can also visit Jawaharlal Nehru State Museum, Craft Centre, Emporium, Donyi – Polo Centre Overnight at hotel
DAY 04: ITANAGAR / ZIRO (170 KMS, 4 HRS DRIVE)
Morning after breakfast drive to Ziro. Ziro, a small picturesque town situated at an altitude of 5000 feet ith Pine and Bamboo groves, villages, a craft centre and high altitude Tarin Fish Farm is an ideal place for relaxation. Places of interest: Arrive Ziro and check in at hotel. Overnight at hotel.
DAY 05: ZIRO
Morning after breakfast visit Tarin, the high altitude fish farm, a famous whispering pine grove and the craft center. From a hill top, catch the first rays of dawn lighting up the stunning emerald patchwork quilt of nature.
Later visit Talley Valley: Tally valley is located 30 Kms away from Ziro. Tale in Apatani dialect is the name of a plant and to many other tribes the word means paradise. The local population grow paddy in terraced fields all over the valley. The Apatanis, the main tribe of this region grow rice by terrace farming and their indigenous irrigation system is unique amongst the Arunachal tribes. The Apatani village comprises of long rows of houses with a fertility totem in front of each house. They use an indigenous herbal salt that's rice in iodine, which is quite unique. As real nature lovers, for every tree they fell, five fresh saplings are planted. The Apatani women are very skilled in handicraft and handloom as one can be seen from the wonderful JIKHE pattern, woven jackets and intricately patterned JILANG shawls. The men are expert in metallurgy and bamboo craft. Overnight at hotel.
DAY 06: ZIRO / DAPORIZO (170 KMS, 5 HRS DRIVE)
Morning after an early breakfast drive to Daporizo.
Daporizo: Daporizo is a district headquarter of Upper Subansiri District. It is a beautiful place on the right bank of Subansiri river with picturesque villages and also to see are the caves (a few kms away). Languages spoken here are Tagin, Hill Miri, Adi(Gallong), Hindi, Assamese and English Arrive Daporizo and check in at hotel. Later sightseeing of Daporizo After breakfast, enjoy a full day visit to the Tagin Tribal Villages to get an insight into the unique day-to-day life of the tribal people.
Daporijo forms a beautiful picnic spot. It is well placed on the right bank of the Subansiri river. This mesmerizing land houses many wonderful villages. A few kilometers ahead, one comes across many caves; those are a treat to the eyes. Overnight at hotel.
DAY 07: DAPORIZO / ALONG (180 KMS, 5 HRS DRIVE)
Morning after an early breakfast, depart for Along by car.
Along: Along is the headquarters of West Siang district of Arunachal Pradesh, located at an altitude of 300 m above sea level. Sitting amidst abundant natural surroundings, Along in Arunachal Pradesh is a small town with beautiful near-by villages. Along in Arunachal Pradesh is a most ideal place to spend the hot summer seasons. The picturesque surroundings laced with brilliant plantations makes Along in Arunachal one of the most perfect health resorts of India. Arrive Along and check in at hotel. Later visit Ramakrishna Ashram.
Ramakrishna Ashram: This is nice place to visit in Along. The place provides items related to Ramakrishna Paramhansa. Maa Sharada and Swami Vivekananda.
Hanging Bridge: Hanging Bridge on the Siang River is another thing to see at Along. This bridge is local made of cane and bamboo. The bridge is around 60 to 70 m long connecting to the others hill tribes, fishing are the sports for this tribe.
DAY 08: ALONG / PASIGHAT (130 KMS, 4 HRS DRIVE)
Morning after breakfast, drive to Pasighat.
Pasighat: The district headquarter of East Siang district, the oldest administrative center of erstwhile NEFA, situated on the bank of mighty river Siang, the main tributary of Brahmaputra and bounded by snow-clad peaks, rocky mountains, virgin floral and faunal diversity. This region is the home of the Adi tribe who are remembered for their colourful Ponung dance. Arrive Pasighat and check in at hotel. Later visit to Kekar Monying.
Kekar Monying (Black Rock): It is one of the important memorials of the State erected in memory of Adis who fought against the British at this site on 4th December 1911 and who died a heroic death.
Komsing: The British had erected the epitaph/ memorial stone of Sir Noel Williamson killed by Narmi Manmur Jamoh.
Dr. Daying Ering Wildlife Sanctuary: A rich habitat of many unique plants, birds and wild animals such as hog deer, hispid, hare, Bengal lioricans, raptors and migratory water birds.
Mouling National Park: Situated in the Upper Siang district, covering an area of 483 sq. kms, is a home of the rarest wild animals such as Takins, Serow, Goat, Clouded Leopard, Black Bear, Leopard, Red Panda etc. During winter a large number of migratory birds are seen in this park. Overnight at hotel.
DAY 09: PASIGHAT / DIBRUGARH (110 KMS, 4 HRS DRIVE WITH 2 HRS FERRY RIDE)
The morning after breakfast in time transfer to the Ghat (river port) to catch the ferry for Dibrugarh. Arrive Dibrugarh and check in at the hotel. Evening free at leisure. Overnight at hotel.
DAY 10: DIBRUGARH DEPART
Morning after breakfast in time transfer to airport for the onward destination.