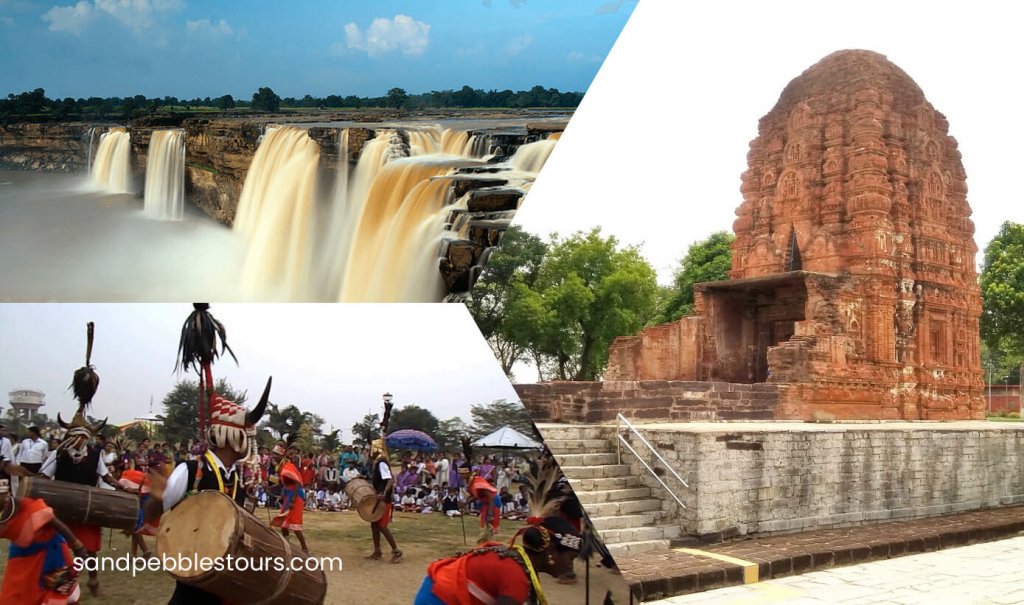 A comparatively newly formed state carved out of Madhya Pradesh, Chhattisgarh is a state with dense forests and beautiful waterfalls. It's worldwide known for its abundant wealth of mineral and natural resources. In Chhattisgarh, you can see many Ancient Caves, a lot of waterfalls (popular are in Chitrakoot, Tiratgarh, Mandawa, Chitrashara, Thamada, Ghumar, Bodhghat, Dantewada, Kanker, Koriya and many other), Palaces, temples, and tribal culture. The Exclusive Chhattisgarh Tour will give you a chance to explore all these places and more. It is full of ancient monuments, rare wildlife, exquisitely carved temples, Buddhist sites, palaces, caves, rock paintings and hill plateaus. Most of these sites are untouched and unexplored and offer a unique and alternate experience to tourists, compared to traditional destinations which have become overcrowded. With Exclusive Chhattisgarh Tour, you'll get to explore the unexplored. The state has a high tourist potential in adventure tourism, water sports and pilgrimage due to the forests, waterfalls, temples and wide range of flora and fauna found in Chhattisgarh. Chhattisgarh is a very special place, with much to offer the intrepid traveler who loves to get off the beaten tourist trail. The Exclusive Chhattisgarh Tour will give you so much more than you expect.
08 Nights Program | Tour Code: 011
DAY 01: ARRIVAL NEW DELHI
Meet upon arrival at New Delhi International Airport and transfer to hotel. Rest of the day free for own activities. Overnight at New Delhi.
DAY 02: NEW DELHI – RAIPUR
Drive to New Delhi airport to board the flight for Raipur. Reception upon arrival at Raipur airport and then drive to the hotel. After check-in visit to Sirpur Buddhist Excavation site. Overnight at Raipur.
DAY 03: RAIPUR – BHORAMDEO
After breakfast drive to Bhoramdeo. Visit local market. Overnight at Bhoramdeo. (Must be Wednesday)
DAY 04: BHORAMDEO
Morning after breakfast visit of local villages and after lunch visit of Chilpi Weekly Tribal Market of Baiga Tribes. Overnight at Bhoramdeo. (Market is on Thursday)
DAY 05: BHORAMDEO – TAREGAON – KANKER
After breakfast visit of Taregaon Market of Gond Tribes and then drive to Kanker visiting Rajim & Champaran. Overnight at Kanker. (Market is on Friday)
DAY 06: KANKER – JAGDALPUR
Drive to Jagdalpur visiting Kondagaon Dhokra casting village and Kidei Chappda Cast Iron work village. Overnight at Jagdalpur.
DAY 07: JAGDALPUR
Morning visit of Kanger Valley National Park and Tirathgarh Waterfall. After lunch visit of Chitrakoot Water Fall (The Niagara Fall of India). Overnight at Jagdalpur.
DAY 08: JAGDALPUR – RAIPUR
Drive to Raipur visiting Pharasgaon Weekly Market and few wood carving villages on the way. Overnight at Raipur.
DAY 09: DEPARTURE
After breakfast transfer to Raipur airport for onward journey.