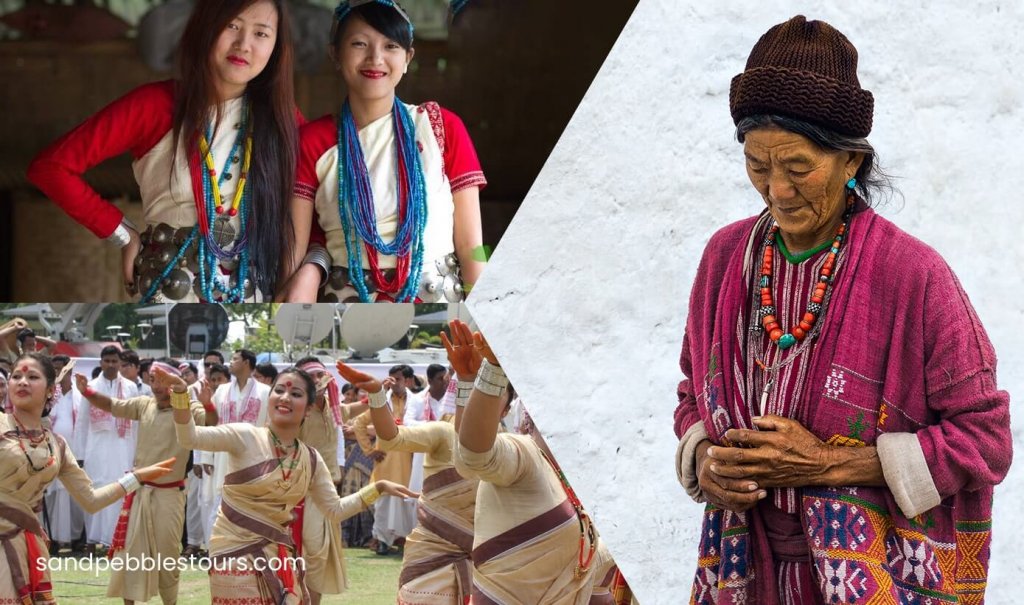 The simplicity and the passion in the tribal life of India have always attracted a number of travellers around the globe. Arunachal Pradesh is the home to 26 tribes and more than 100 sub-tribes, and thus it is inarguably the best place for a tribal tour in India. Exotic Tribal Tour of Arunachal ensures to give you an experience you never had before. Sharing boundaries with Bhutan to the west, the People Republic of China in the North and in east combinedly with China and Myanmar. The name of the state "Arunachal Pradesh" means "the land of rising sun". The Exotic Tribal Tour of Arunachal will take you to unexplored beautiful tribal places, which would feel not less than a paradise. Apart from the tribal culture, you'll love the dazzling array of flora and fauna. The tribes of Arunachal have a rich cultural heritage and their dresses reflect their colourful attitude. With dances and songs that can warm up your heart, the Exotic Tribal Tour of Arunachal will make you fall in love with the place and the people of Arunachal.  It is the natural habitat of more than 500 rare species of orchids and hundreds of plants species, which covers more than 60% of total area. Exotic Tribal Tour of Arunachal ensures to include this experience of bonding with nature and of course interacting with the tribal men and women to get a better perspective towards simple lives.
12 Nights Program | Tour Code: 131
DAY 01: GUWAHATI – NAMERI NATIONAL PARK
Arrive in Guwahati. Transfer to Nameri National Park (230 kms/6 hrs) which is situated at the foothills of eastern. Rolling hills, deciduous forests and the river Jia Bhoroli have all added a unique charm to it. A bird lover's paradise, the national park is home to numerous species of mammals like Assamese macaque, wild dog, Bengal fox, jungle cat, hog deer, mouse deer, leopard, tiger, fishing cat, wild boar, Indian porcupine, Indian pangolin, flying squirrel etc.; various species of flora like Bombax ceiba, sterculia villosa, zizypphus jujube along with non-aquatic grassland species like andropogon, Ipomea reptans, enhydra flushians, nymphia, wichornia etc. The park is also famous for birds and insects like white winged duck, drongos, beautiful nuthatch, grey headed fishing eagle and many more insect life like butterflies, moths, spiders, ants and termites. Nameri is a treat for any entomologist.
Travelling to this park also gives you an opportunity for water sports activities of river rafting, swimming, sunbathing in different river islands. Angling is also possible in the river islands for keen anglers subject to regulation by the forest department. Overnight Nameri National Park.
DAY 02: NAMERI – ITANAGAR&lt
After breakfast drive down to Itanagar (265 kms/6 hrs). Situated at the foothills, Itanagar is the capital of Arunachal Pradesh. Arrive and check into your hotel. Later visit the State Museum where the lifestyle has been depicted, with help of maps and miniature diagrams. While the lifestyles of all the major tribes have been depicted, the display covers a wide range of subjects such as people, house types, festivals, dances, handicrafts etc. Move on to the market where you can shop for souvenirs and then visit the tribal Nyishi village before returning to your hotel. Overnight at Itanagar.
DAY 03: ITANAGAR – ZIRO
After breakfast drive to Ziro- the land of Apatani tribes of Arunachal Pradesh. Located at an altitude of 5754 ft, this high town is almost a level valley enveloped in all sides by pine clad low stooping hills. A small picturesque destination with pine and bamboo grooves, villages, a craft center and a tagin fish farm – it brings in the rustic element to the travel. Enroute visit and explore Nishi Tribal Villages. Return to your hotel. Overnight at Ziro.
DAY 04: ZIRO – APATANI AND HONG TRIBAL VILLAGES – ZIRO
Today after breakfast, explore the Apatani villages around Ziro. Visit the ethnic Hong Village. Hong village is said to be the second biggest and most organized tribal villages in Asia. The uniqueness of Apatani tribe is tattooing on women's face and its nose plug. Move on to other Apatani villages before returning to your hotel in Ziro. Overnight at Ziro.
DAY 05: ZIRO – LIMEKIN NISHI TRIBAL COUNTRY -ZIRO
Today after breakfast, explore Ziro Limekin Nishi tribal country. Overnight at Ziro.
DAY 06: ZIRO – DAPORIJO
Today after breakfast depart for Daporijo (176 kms/7 hrs). The land of Tagin and Hill Miris, it is located at an altitude of 600 mts and is the Headquarter of the Upper Subansiri district of Arunachal Pradesh.The small town is endowed with scenic beauty. One can see suspension bridges over Subansiri River made from bamboo and cane – a testimony of rich tribal craftsmanship. Subansiri River is ideal for river rafting, angling and picnic. Enroute visit Nishi & Tagin villages. Arrive and check into your hotel. Overnight at Daporijo.
DAY 07: DAPORIZO
Today explore Tagin country towards Nacho Lymekin road. Overnight at Daporijo.
DAY 08: DAPORIJO – ALONG
Drive to Along (167 km/7 hrs). Along is the HQ of west Siang district, located on the south bank of river Siang. It's the territory of the Adi tribe, one of the largest tribes in Arunachal Pradesh with lots of subgroups with an altitude of 1020 ft. The Adi tribe has different sub tribes like Adi (Galong, Miniyong, Pasi, Padam, Bori and Borak ) which differs from each other. Afternoon visit Kabo village. Overnight at Along.
DAY 09: ALONG
After breakfast, explore the Adi country. Visit a few villages like Jirdin, Kabu, Kaying to get an understanding of the culture and the lifestyle of the Gallong tribe. Overnight at Along.
DAY 10: ALONG – PASIGHAT
After breakfast, drive to Pasighat (147 kms/5 hrs). The oldest city of Arunachal Pradesh, this city is the entrance point for Arunachal Pradesh. You could travel to the Siang District or even to unexplored Gelling, which is the confluence point of Rivers Sangpo and Siang. It is also the land of Passi and Minnyiong tribes. Enroute enjoy the great view of Great Siang and Siyom confluence – the origin of Great River Brahmaputra. Also visit Minnyion villages before moving on to Pasighat. Arrive and check into your hotel. Overnight at Pasighat.
DAY 11: PASIGHAT – DIBRUGARH
Drive and then cruise down on the Brahmaputra to Dibrugarh (6 hrs). Situated in the northernmost tip of Assam, Dibrugarh is the gateway to Aurnachal Pradesh. Famous for tea, it has world's largest area covered by tea gardens. Arrive and check into your hotel. Overnight at Dibrugarh.
DAY 12: DIBRUGARH – TAI PHAKE – TINSUKIA
After breakfast, visit Tai Phake village near Naharkatia which is 80 kms/2 hrs east of Dibrugarh and revel in the beauty of the people of Tai Ahom with their unique culture. In the afternoon, visit the Borajan wildlife Sanctuary to see Hoolok Gibbon, the only Ape in India.
DAY 13: TINSUKIA – DIBRUGARH – AIRPORT
After breakfast go for an exclusive tea tour to learn all about tea. Later drive down to Dibrugarh airport for your flight back home.