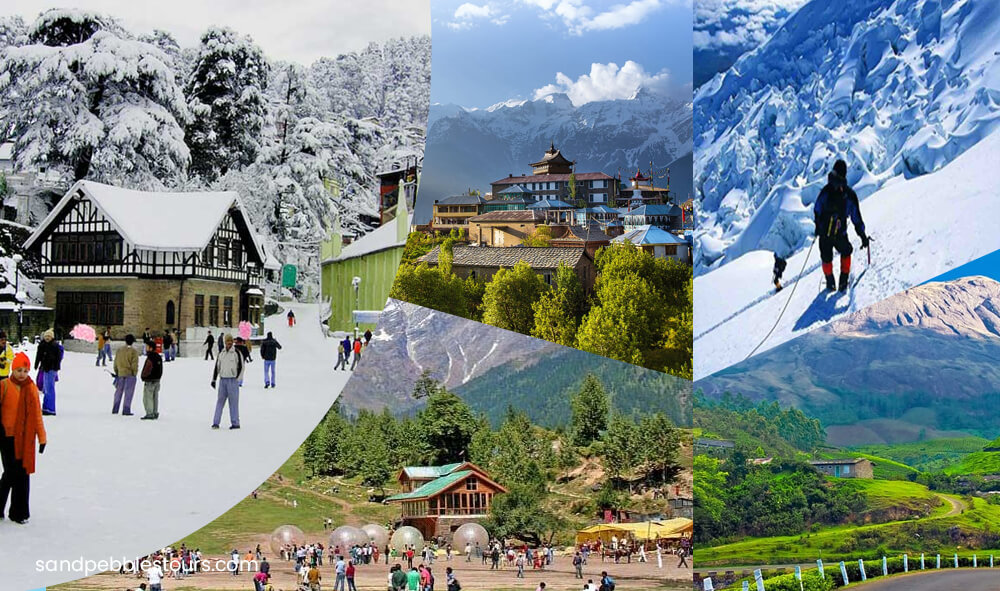 If you're looking forward to exploring the magic of snow-capped peaks and get lost in the undulating valleys, Hidden Himachal Tour is for you. Himachal Pradesh is India's outdoor adventure playground, but a lot of places are unexplored and hidden from the eye of regular tourists. Sand Pebbles' Hidden Himachal Tour will let you explore those undiscovered places. The 'Indian Switzerland' has a plethora of hidden, secret and pristine getaways blazing with beauty. The beauty of Himachal can't be summed up in just a few words or sentences! The Hidden Himachal Tour will give you all the right feels. The northern hills, especially in Himachal, have plenty of seen and unseen treks that one can undertake to immerse in the beauty of these landscapes. Unlike many other Himachal Tours trek, these are not overcrowded or touristy. The Hidden Himachal Tour will take you to a wonderland of your dreams, and you won't even want to wake up! Whilst your journey through the beautiful apple orchards and pine trees, push through your fear of heights and have a breathtaking view of the mighty falls hidden behind the tall trees.
From river rafting to trekking everything you imagine can be done here. Himachal which means " The land of snow " is the perfect destination for any bag packer around the world. So, pack your bags now! And get ready to rediscover Himachal with Sand Pebbles' Tour to Undiscovered Places in Himachal.
09 Nights Program| Tour Code: 254
DAY 01: CHANDIGARH – SHIMLA (125 KMS/04 HRS)
Arrive at Chandigarh Railway Station & drive to Shimla, a drive of around 04 hours. Reach Shimla evening free to explore the Mall. Overnight at Hotel.
DAY 02: SHIMLA – SANGLA (230 KM/08-09 HRS)
Drive to Sangla through the thick woods of Kufri, Fagu and Narkanda and alongside the River Sutlej to arrive in the evening and check in to Luxury Camp. Enjoy the evening in beautiful surroundings in the river valley of Baspa at a height of 9000 ft. This is one of the most beautiful valleys in the Himalayas and is often compared to the famous valley of Kashmir. Known for its rich Kinnauri culture and apple orchards, this valley was opened for tourists only in 1993 for its close proximity to the Tibetian border. Overnight at Hotel.
DAY 03: SANGLA – CHHITKUL – SANGLA (STAY) (03 HRS./40 KM)HRS
After Breakfast, explore the vicinity around including an ancient Kamru Fort & Temple dedicated to the Goddess Kamakhya Devi which was brought from Assam & Nages God. Post Lunch, excursion to Chitkul – the last village on Old Indo – Tibetan Trade Route. Walk through green orchards & brilliant stream. Return back to Sangla for dinner & overnight stay.
DAY 04: SANGLA – KALPA
After breakfast, check out from the hotel & drive to Kalpa – District Headquarter of Kinnar & once a favourite haunt of Lord Dalhousie. Arrive Kalpa & Check into your hotel. Kalpa was known as Chini back in the days when it was the Regional Capital. Kalpa has changed little in the last 500 years. It is said that as & when Lord Dalhousie wanted to take a break from his hectic schedule in Shimla, he would come here on his Horseback. Each & every corner of Kalpa facing Jorkanden & the Kinner Kailash Peaks, considered as one of the mythical homes of Lord Shiva & by its side is a 79 foot rock formation that resembles a Shivlinga that changes the colour as the day passes & is visible to the naked eye on a clear day. Post lunch rest in Hotel & in the evening visit to Buddhist Gompa – Hu Bu Lan Kar. Overnight at Hotel.
DAY 05: KALPA
Early morning enjoys the sunrise over Kinner Kailash Peaks. After breakfast Kalpa is famous for its Apple & Chilgoza Plantations a kind of Dry Fruits, which are found only in Iran & Turkey besides here. The tree belongs to the Pine family & the fruit is in about an inch long soft cover. Visit local school & Narayan Nagini Temple, which has Shrines of Hindu, Buddhist & local deities. Afternoon excursion trip to Roghi Village to explore the ' Pahari' Life. Interact with the locals. Return back to Kalpa. Overnight stay.
DAY 06: KALPA – TABO
The morning after breakfast check out from the hotel and drive to Tabo. On the way visit Nako. Nako has a beautiful lake which freezes in the winter and villagers play ice hockey during this period and seeing the temple of Padmasambhava, the second incarnation of Lord Buddha who made Buddhism popular in the Trans Himalayas. Later drive to Tabo. Overnight camp near a village.
DAY 07: TABO – KAZA (106 KM/04 HRS)- 3600 M
After breakfast journey starts to witness the Ajanta of the Himalayas the Tabo monastery. Tabo has the oldest caves on barren mountains and Thanka paintings, one of the most precious paintings of Buddhism. The day has a surprise where a visit to the village of 500 years old mummy makes your journey and exciting. Overnight at Kaza.
DAY 08: KAZA
After breakfast excursion to Kee monastery and Kibber village at an altitude of 4205 M. After lunch a drive to the highest motorable roar Langza and en route visiting the Comik and Hikim village. Overnight at Kaza.
DAY 09: KAZA KUMZUM LA – PASS – MANALI (08 HRS/188 KM)- 3340 MTRS
After early breakfast by 06.30 hrs, check out from the hotel & drive to Manali via Kunzumla Pass which is 4590 M. Highest pass on Spiti Lahaul Road. Rudyard Kipling said of the region "Surely the God live here this no place for Men". Reach Manali in the evening. Overnight at Hotel.
After breakfast check out from the hotel and drive to Chandigarh. Drop at Chandigarh Airport/ Railway station.