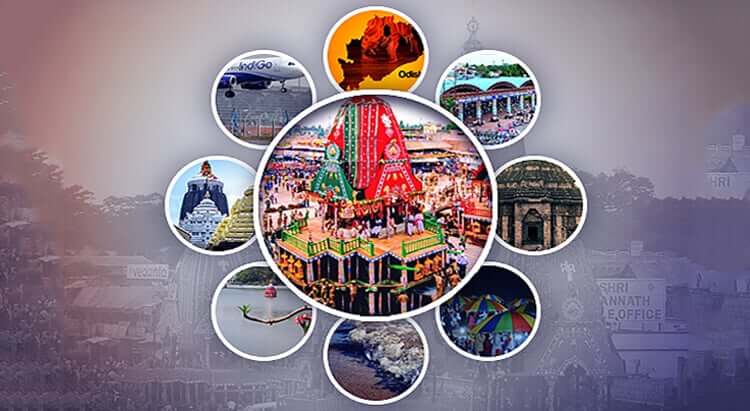 Are you a true follower of Hinduism? Looking for a religious place worth visiting in your lifetime, do add Jagannath Rath Yatra 2019 to your list! Well, Puri Rath Yatra is indeed something to be graced at least once in a lifetime.
SandPebbles offers amazing packages for Jagannath Rath Yatra so that you can have a hassle-free journey and accommodation during the busiest hours of the city. Whether you want to travel from Bhubaneswar or stay in the city during the Puri Rath Yatra, we make all arrangements from hotel bookings to ride, tour, & all, to make your divine journey memorable. Our Jagannath Rath Yatra 2019 package includes:
Day 1: Arrival Bhubaneswar
One of our representatives will receive you at the Biju Patnaik International Airport, Bhubaneswar and escort you to the hotel. If the flight arrives in the morning, you can visit the Smart City or can leave for Puri, it's just 60 Km drive from the city. Dinner will be served in the hotel.
Day 2: Visit Jagannath Temple
After breakfast drive to Puri on a scenic & colourful route. En-route visit to Dhauli, the Ashokan Rock Edict and Shanti Stupa, Pipili, an Applique Work Village, Sakhigopal, which is a Radha Krishna Temple & Raghurajpur, the Painting Village. After arrival at Puri, check in to the hotel. Evening visit to Lord Jagannath Temple to participate in the live Aalati Darshan. After that, back to the hotel room to have dinner & overnight stay.
Day 3: Rath Yatra
After breakfast drive to the Puri Badadanda. A special arrangement would have been made on the rooftop of a hotel for watching Rath Yatra. If you want to see Rath Yatra from rooftop smoothly, please proceed early morning. Please note that Breakfast packet, water bottle, packed lunch will be provided you. In the evening you'll be back to the Hotel to have dinner and a relaxing sleep.
Day 4: Sightseeing Puri
After breakfast, get ready for sightseeing. Visit Narendra Pokhari, Lokanath Temple, Markandeshwar Temple, Lakshmi Temple, Ganesh Temple, Gundicha Temple, Swargadwar, Raghurajpur Artist Village, Bimala Temple & many more. Return to the hotel to have dinner and a good night's sleep.
Day 5: Puri Beach Fun
You'll have fun at the beach. A venue for countless pilgrims, who come for taking the traditional purification dip. One of the finest silvery beaches in India, where the lapping waters of Bay of Bengal pay homage to their beauty. You can enjoy the cool waves sitting in front of the beach having the fun of ice creams and other food items or go on a long drive to Puri-Konark Marine Drive road.
Day 6: Shopping at Puri
Shop till your heart drops. One cannot miss the crafts found around Puri. Look for filigree silver jewellery and also buy Sambalpuri and Bomkai weavers will dazzle you with their intricate work.
Day 7: Drive to Konark
Drive to Konark, enjoying an amazing scenic view of the Puri-Konark Marine Drive. Apart from attending the Ratha Yatra Festival, the travellers in Puri can look for certain other priceless tourist options. Puri Beach, Konark Beach, Konark Sun Temple are some of the most fascinating tourist attractions around Puri. After breakfast visit to Konark Sun Temple, ASI Museum (Closed on Friday), Ramchandi Temple & Chandrabhaga Beach. In the afternoon, enjoy yourself on the golden beach and relax on the beach market of Puri. You'll have an overnight stay at Puri.
Day 8: Departure
After breakfast, you'll be timely transferred to Bhubaneswar Airport or railway station for onward journey.
Inclusions:
Aarti Tikka on arrival
Accommodation in Star Hotels
Dinner & Breakfast
All transfers by exclusive AC cars
Return Airport Transfers in PVT Car
Puri-Konark Marine Drive visit (Seat in luxury cars or coaches)
Puri Sightseeing tour + Jagannath Temple + Konark (Seat in luxury cars or coaches)
Whether you talk about historical temples, monuments, wildlife sanctuaries, festivals, picturesque locales, culture or cuisine – the bounty of the state is absolutely matchless. And, the Jagannath culture has something, that makes every Indian proud.
Welcome to the land of God. Odisha waiting for your arrival.