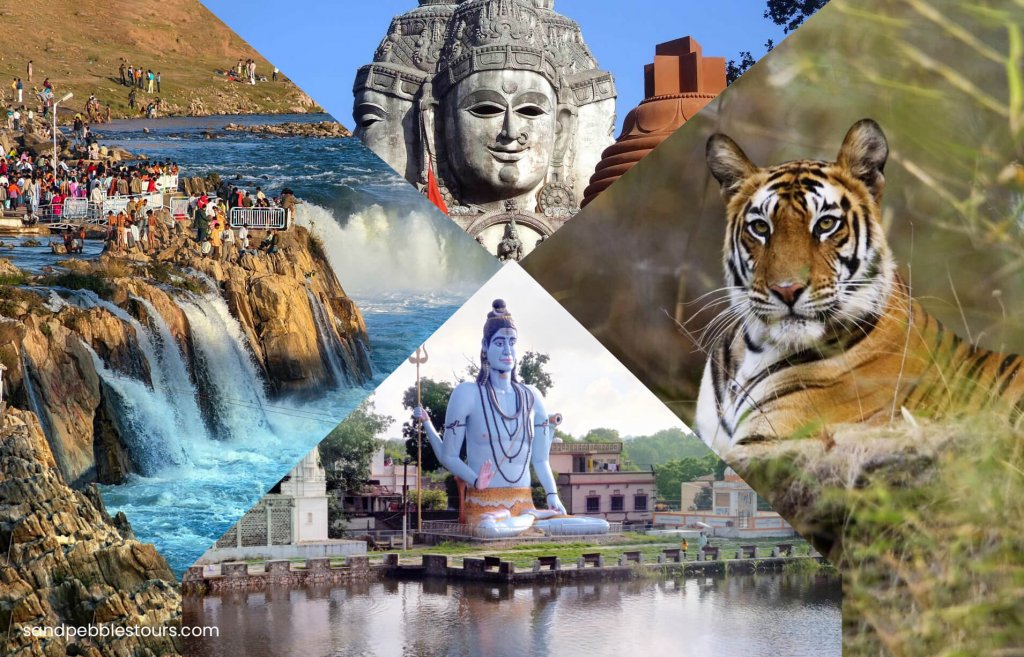 The heart of India is an unexplored tourist paradise waiting to be explored. Filled with rich cultural heritage, iconic monuments, beautiful landscapes, diverse wildlife, heart-warming locals, lip-smacking cuisine and some of the most progressive and cleanest cities of India! It is a treasure trove of such overwhelming attractions and experiences that traveling here once, just wouldn't be enough. The Madhya Pradesh Holiday Tour Package will give you an opportunity to travel through this unexplored mystic land. Madhya Pradesh is the second largest state in terms of area. The vast geographical expanse of this state has given rise to a variety of terrains right from plateaus to mountains and waterfalls to dense forests. The Madhya Pradesh Holiday Tour Package takes you to the awe-inspiring Khajuraho, the thrilling Panna and Bandhavgarh National Parks, the UNESCO World Heritage Sites of Sanchi and Bhimbetka, the alluring Bhopal, the salubrious Panchmarhi and the charming Mandu. The enthralling sights, thrilling wildlife, the delicious gastronomy, the glorious heritage and culture, all create cherished memories of holidays. Customize your Madhya Pradesh Holiday Tour Package, according to your requirements, we're always happy to help plan your itinerary for you. Get ready to experience scenic landscapes, cultural treasures and celebrate the true culture of Madhya Pradesh with Sand Pebbles Madhya Pradesh Holiday Tour Package.
Pachmarhi (2N) – Jabalpur (1N) – Amarkantak (1N) – Bandhavgarh(2N)
06 Nights Program | Tour Code: 163
DAY 01: ARRIVAL AT PACHMARHI
Our tour begins from arrival in Pachmarhi. For reaching Pachmarhi, Pipariya railway station in the nearest one and is connected with direct trains from New Delhi, Bhopal, Mumbai, Kolkata, Varanasi, Agra, Pune, Ahmedabad etc. Those who are coming by flight can reach Bhopal or Jabalpur airports. On reaching Pachmarhi, relax at hotel and then visit local market or nearby tourist spots like Jata Shankar, Pandav Caves etc. Overnight at hotel in Pachmarhi.
DAY 02: PACHMARHI
Do full day Pachmarhi sightseeing in which you can visit Reechgarh, Handi Khoh, Dhoopgarh, Bade Mahadev, Gupt Mahadev etc. There are some places in Pachmarhi where taxi cars are not allowed like Apsara fall, Bee Fall, Dhoopgarh etc. so gypsy is the best option for sightseeing. Overnight at hotel in Pachmarhi.
DAY 03: PACHMARHI – JABALPUR
On this day, after breakfast, we will drive towards our next destination "Jabalpur city". Famous tourist spot Bhedaghat is just 15kms before Jabalpur city so we will visit this place and take lunch there. In Bhedaghat you can do boating, ropeway ride, photography and some marble articles shopping. Later proceed to Hotel in Jabalpur. Overnight at hotel in Jabalpur.
DAY 04: JABALPUR – AMARKANTAK
After breakfast, drive to holy destination Amarkantak (245kms/05:00hrs). It is a hill station cum holy place for tourists. Geographically it is located on meeting point of Satpura & Vindhyachal hills. Its forest encompasses some rare plant species having high medicinal qualities. Holy river Narmada, also lifeline of Central India, has its origin here. Here we will visit ancient temples, river origin point and enjoy natural scenic beauty of surrounding hills & forests. Overnight at hotel in Amarkantak.
DAY 05: AMARKANTAK – BANDHAVGARH
Enjoy sunrise at Amarkantak and after taking breakfast, drive for wildlife expedition to tiger land Bandhavgarh (270kms/05:30hrs). Bandhavgarh is popular national park for tiger sighting due to high density of this magnificent wild beast. Tiger reserve is located in north of Amarkantak. We will try to reach Bandhavgarh till noon so that we can attend evening safari drive. After having lunch, we will go for jungle safari. Overnight at resort in Bandhavgarh.
DAY 06: BANDHAVGARH
Attend morning & evening tiger safari drives. Bandhavgarh national park is spread over Vindhyan hills having hilly terrains with few meadows. Presence of fort at hill-top inside forest area shows that human beings lived here during rule of Baghela dynasty. Later with shifting of capital from Bandhavgarh to Rewa, this place was abandoned and wild nature take over the area. Still you can find active Hindu temple, adjoining to Bandhavgarh fort. This forest is good for tiger photography as their population is healthy and in Bandhavgarh their movements are well known to safari guides. Overnight at resort in Bandhavgarh.
DAY 07: DEPARTURE
This will be our last day in Bandhavgarh and also of tour. As per our departure timing, you can attend one morning safari and later drive to nearby railway stations like Umaria (37kms), Katni (100kms) or Jabalpur (190kms). If you wish to take flight then reach Jabalpur airport (200kms) or Khajuraho airport (250kms).