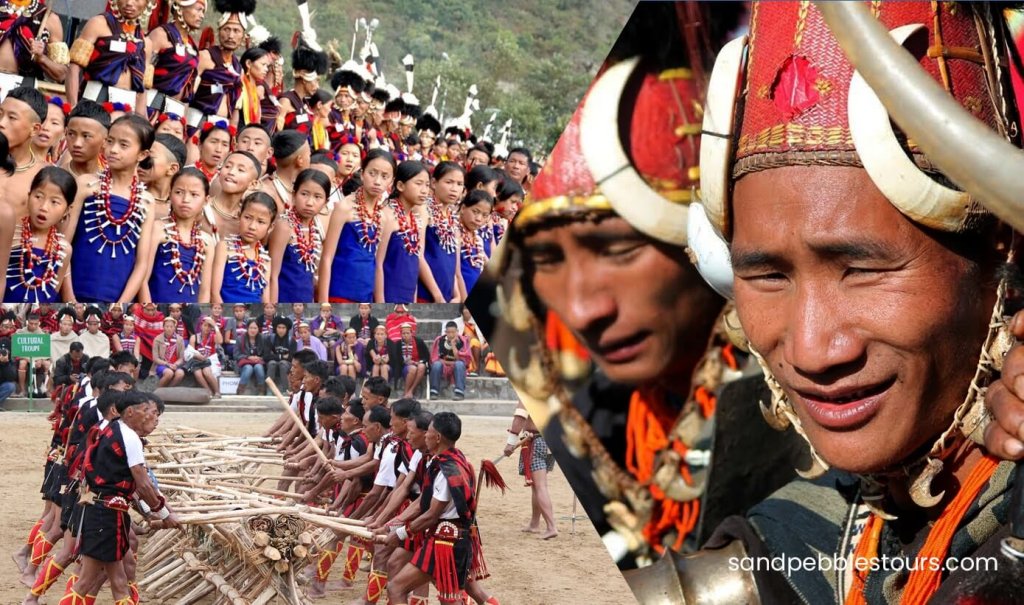 A land so pure and peaceful that you'll never want to return. A land, where people celebrate festivals all around the calendar. Yes, it's Nagaland. A home of near about 16 tribes the state has much more to explore. Tribe and clan traditions and loyalties play an important part in the life of Nagas. The Nagaland Tribal Village Tour Package lets you explore different parts of this beautiful state and its culture. Weaving is a traditional art handed down through generations in Nagaland. Each of the tribe has its own unique designs and colours, producing shawls, shoulder bags, decorative spears, table mats, wood carvings, and bamboo works. War dances and other dances belonging to distinctive Naga tribes are a major art of form in Nagaland. If you want to experience all of it yourself, the Nagaland Tribal Village Tour Package is a brilliant option for you. The most interesting aspect of Nagaland is to be found in the customs of its diverse tribes like the Ao, Angami, Chakhesang, and Konyak. The more you delve deep into the heritage of this state's tribal community the more you get to know the real essence of the tribes of Nagaland. Nagaland Tribal Village Tour Package lets you interact with the local tribal people and try their local cuisine. Besides interacting with the tribal people you'll also experience the luxury to travel to different unexplored locations of the state. The Nagaland Tribal Village Tour Package ensures to give you a trip of a lifetime.
06 Nights / 07 Days | Tour Code: 227
DAY 01: ARRIVE DIMAPUR
On arrival meet our representative and transfer to Kohima, which is at a distance of 74 KMs form Dimapur en-route stop at Zubza. Later arrive to Kohmia. It is the capital city of Nagaland. On arrival check in hotel, which is already reserved for you. In late afternoon sightseeing of the city and visit to Nagaland Emporium. Overnight at hotel.
DAY 02: KOHIMA – TOUPHEMA
In the morning after breakfast drive to Touphema. It is located at distance of 40 KMs form capital city of the state. Upon arrival take rest and after lunch get ready to visit Viswema Village (Angamai Tribe) and Kigwema Village. Later drive to Touphema. On arrival check into Touphema Tourist Village. In the evening enjoy Nagal folk music and dance. It is the second largest village of Asia. Overnight at hotel.
DAY 03: TOUPHEMA – WOKHA – MOKOKCHUNG
Morning after breakfast drive to reach Mokokchung (120 KMs and will take around 5 hours to reach there) – en route stop at Longsa village for police check post and during police checking visit Longsa village (Lotha Tribe), a nearest village. Later way to Longkhim village of Ao Tribe. Visit to a village house, Rock memorial, village rice mill etc. Later upon arrival in Mokokchung check-in at the Circuit house for overnight stay.
DAY 04: MOKOCHUNG – TUENSANG
Morning excursion to Mopungchukit village. Later take breakfast and drive to reach Tuensang. En route stop at Chare town for police check-post. Second time on the way towards Tuensang a halt is scheduled at LONGKHIM Village of Sangtam tribe – Visit local Sangtam house and a small walk in the village. Later on arrival check-in at the Circuit house. Later in the afternoon visit TUENSANG Village of Cham Tribe, and explore around to see some of the finest traditional huts.
DAY 05: TUENSANG – MON
This day is scheduled to visit the last Indian village before Myanmar, so will have to take a bit early breakfast and drive to reach Mon via Tobu. Upon arrival check in at the Rest House for overnight stay.
DAY 06: MON
In the morning visit Shangnyu village. Visit village Morong, Shangnyu village museum, Shangnyu Ang house which is close to the museum, Rock memorials etc. In the afternoon drive to Chui Village to see Wangkhao Ang House – one of the best Ang houses with beautiful decoration. Overnight at Mon.
DAY 07: MON – SONARI – SIBSAGAR – DIBRUGARH
Drive to Sibsagar (in Assam). It was capital of Ahom Dynasty which ruled Assam for over 600 yrs. Later drive to Dibrugarh Airport. Here the tour ends.