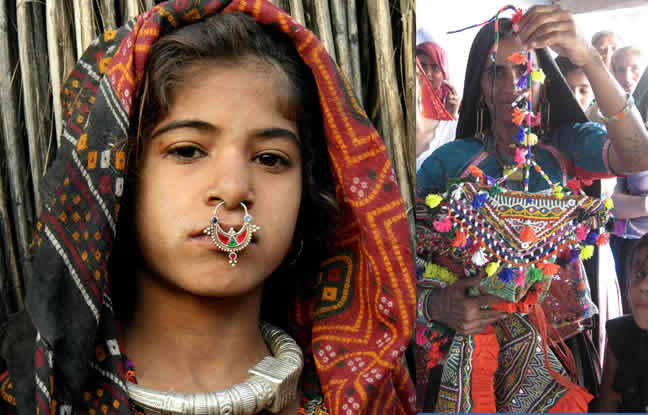 Tribal culture of Gujarat is very old, and the tribal people of Gujarat are very talented and artistic. Thousands of tourists from various places prefer Gujarat Tribal Tour packages, in which they get the thrill and excitement to proceed with the adventure. Apart from medieval edifices, pristine beaches and cultural traditions, the state of Gujarat is famous for its Tribal life. Gujarat has hundreds of tribal groups residing here for centuries known as ancient inhabitants. You'll get to experience a new world of culture with Sand Pebbles' Gujarat Tribal Tour packages. The villages Haats (markets) of Chhotaudepur, Kanwat or Rangpur or Sajadi are the perfect destinations to witness the Rathwas, Nayakas and Bhils in their colourful attire. The Gujarat Tribal Tour gives you ample opportunity to the tourists to see different types of tribes, their lifestyle, colourful dresses, customs and traditions. Near Poshina village, there is a place where one can see thousands of terracotta horses offered to a tribal deity, which is very unique in India. In the other villages surrounding Poshina, we see Garasia tribe of Gujarat and Rajasthan. Gujarat Tribal Tour explores the nook and corner of unexplored locations where tribal people live.
The highlight of Gujarat Tribal Tour is the vibrant region of Kutch. Here, the most interesting tribe is Rabaris, they are cattle herders and always on move thus called as Gypsies. Rabari women wear black dresses and backless blouse whereas the men wear a white dress with a beautiful turban. Book your Tribal Culture Tour in Gujarat now, with Sand Pebbles Tour and Travel.
Tour Code: 230
07 Nights / 08 Days
DAY 01: AHMEDABAD
Upon arrival at Ahmedabad airport transfer to hotel and check-in. Visit tribal museum and Shreyas folk museum. Rest of the day is free for relaxation. Overnight stay at a hotel.
DAY 02: AHMEDABAD – CHHOTTAUDEPUR (250 KM / 05 HRS)
After breakfast proceeds to Chottaudepur, visit the tribal museum and tribal villages around the town. It is considered one of the most primitive tribal belts of Gujarat. Overnight stay at Chhottaudepur.
DAY 03: CHHOTTAUDEPUR – UTELIA(150 KM / 03 HRS)
After breakfast proceed to Utelia. On arrival visit Bharwad tribal village. The Bharwad tribes, a pastoral people of the region. They are by profession shepherds and cattlemen. On your tour, visit these colorful tribal people wandering in the neat lanes and perhaps few tribal homes to get an insight into day-to-day tribal life. Catch the steps that turn a handful of dull looking opaque lumps into sparkling gems in your Camera. Overnight stay at the Utelia.
DAY 04: UTELIA – BALARAM (140 KMS / 03 HRS)
After breakfast proceeds to Balaram. On arrival check into the hotel/resort. Rest of the day enjoy with the resort facilities. At night see the tribal dance at the resort. Overnight stay at the Balaram.
DAY 05: BALARAM LOCAL TRIBAL VILLAGES
After breakfast visit tribal villages which are located around the hills bordering Gujarat and Rajasthan, the GGowallaand Garcia are primarily sheepherders, known for their unique culture and traditions. The Gowala and Garcia tribes are second cousins to each other, differing only in the manner of living. While the Gowala are more settled, the Garcia are still wanderers, and their women dress in sa lightly less ostentatious manner than the Gowala females. Overnight stay at Balaram.
DAY 06: BALARAM – PATAN – LITTLE RANN OF KUTCH (100 KM / 02 HRS)
After breakfast proceed to Patan. Arrive Patan and visit one of the families of Patola weavers, known for their unique Patola art. The fact that one Patola sari can take up to six months to complete, proves that how difficult and demanding is the Patola Art. Also, visit the famous 11th Century Rani-ki-vav (step well). Continue to drive into the Little Rann of Kutch. Overnight stay at the cottages.
DAY 07: LITTLE RANN OF KUTCH
After breakfast visit of Rabari and Banjara. They are the two important tribes of the region. While the Rabari, the most nomadic of Gujarat's tribes, constantly migrate in search for better grazing ground for their camels and sheep. The Banjara and other tribes have settled here. Also visit home to endangered Asiatic Wild Ass, the area is known for its unique wildlife and birds. Overnight stay at the cottages.
DAY 08: LITTLE RANN OF KUTCH – AHMEDABAD (95 KM / 02 HRS)
After breakfast proceed to Ahmedabad. Arrive at Ahmedabad and board the flight for onward destination.