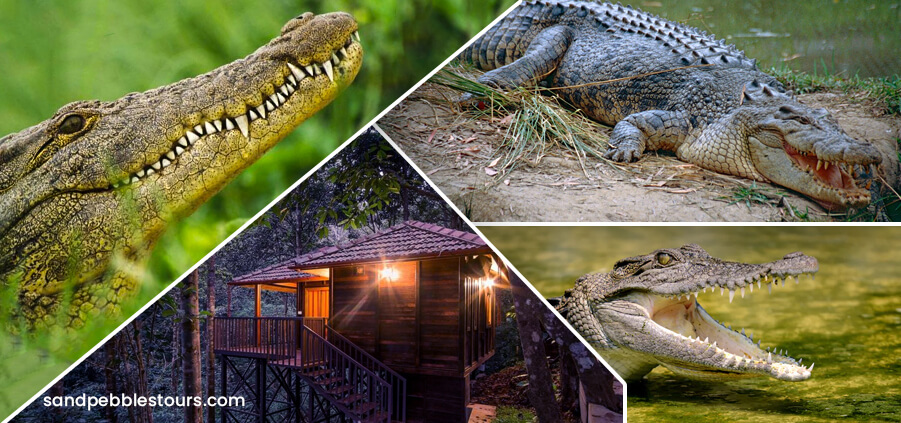 Bhitarkanika National Park is the second largest ecosystem in India. Sand Pebbles Bhitarkanika Tourism will let you experience the untold beauty of the wetland. The land of lush green mangroves, migrating birds and turtles, the menacing estuarine crocodiles, meandering watercourses, tranquil surrounding intercepted by the chirping of birds and the ever embracing nature, entrails visitors from near and far off places to flock these unique places of tourist importance. Scientists, Scholars, Nature Lovers and Tourists have abundant food for thought and exploration. Bhitarkanika Tourism covers all the spheres of adventure. The place represents one of the finest creations ever. Bhitarkanika is a unique habitat of Mangrove Forests crisscrossed with numerous creeks and mud flats located in Kendrapara district of Odisha. One of the largest Mangrove Ecosystem in India, Bhitarkanika is home to diverse flora and fauna. With Sand Pebbles Bhitarkanika Tourism packages you can have the adventure you were searching for. The unique bio-diversity attracts visitors to nature's lap. Bhitarkanika National Park is a prime habitat of Leopard cat, fishing cat, jungle cat, hyena, wild boar, spotted deer, sambar, porcupine, dolphin, saltwater crocodile including partially white crocodile, python, king cobra, water monitor lizards, terrapin, marine turtle, kingfisher, woodpecker, hornbill, bar-headed geese, Brahmani duck, pintail, white-bellied sea eagle, tern, seagull, waders and a large variety of resident and migratory birds. So, without further ado, pack your bags for this adventurous tour with Sand Pebbles Bhitarkanika Tourism.
Where To Stay: Sand Pebbles Bhitarkanika Jungle Resorts at Bhitarkanika National Park offers ace-class accommodation with modest facilities for overnight stay.
Type of Accommodation:
– 14 SWISS TENTS (Double Bed, Triple Bed, Four Sharing-Beds).
Cozy accommodation (Non-AC ) in Swiss Tents on AP and MAP Plans.
Sand Pebbles Bhitarkanika Jungle Resorts offers lucrative packages designed especially for tourists – both from home and abroad.
Rack Rate :Room Tariff : in INR : Per Night Effective from 01st Aug 2019 to 31st July 2020.
| | | |
| --- | --- | --- |
| Non AC SWISS-TENT | MAP plan | AP plan |
| | breakfast + (lunch or dinner) | breakfast + lunch + dinner |
| Double | 6,100 | 7,200 |
| Triple | 8,900 | 10,500 |
| 4-Bed | 11,500 | 13,600 |
General Information
Rates are inclusive of all taxes. ( Subject to change in future ).
Children below 5 years of age are free.
Booking is subject to availability.
Swiss-Tent Accommodations at Sand Pebbles Bhitarkanika Jungle Resorts (Bhitarkanika National Park).
Bhitarkanika National Park Remains close from 01st May till 31st July for Breeding and Nesting of its habitats and re-opens for the tourist from 01st August every year.
Above rates are not applicable for Saturdays. Alternatively packages may be available for booking.
Click Here For Reservation / Cancellation Policy.
Amenities and Services: Fully Furnished Tents, Restaurant and Hygienic Food, Hammocks(Swings), Fishing Rod Available(Angling), 24-hours water supply, Attached Bathrooms, Bonfire Place, 24-hours Electricity with back-up Generator, Classic Modern Amenities, Lively Rejuvenating Atmosphere, Leisurely Pollution-free Ambiance, Complementary Pick-up/Drop from Boating-point (only Arrival / Departure)
Activities and Services offered: Lucrative Accommodation, Highly tasty and hygienic Food, Scenic Boat Cruising, Bonfire, Angling, Corporate Events, Get-togethers, Outing, Team Building Activities & Ice Breaking Sessions, Theme-Based Entertainment.
Major Attractions: Birds of 170 different species, 08 magnificent sub-species of Kingfishers, Open Billed Stork, Sea Eagles, Kites, Sand Pipers, Darters, Whistling Teals, Sea Gulls, 22-feet Crocodile(Kaalia), Famous White Crocodile(Gauri), Basking Crocodiles on Mudflat, Spotted Deer, Wild Pigs, Monitor Lizard, King Cobra, Pythons
Entry Points: Khola and Gupti are the two main entry points to enter Bhitarkanika National Park. Visitors should take entry permit from the Forest Check Gate at Khola and Gupti forest Dept. Private Boats are available at both the places. Private Boats are also available at JAYANAGAR & CHANDBALI. The entry points are well connected from the major cities of Odisha.
By Road:
Bhubaneswar – 160 KMS to entry point Khola/Gupti
Cuttack – 140 KMS to entry point Khola/Gupti
Bhadrak – 70 KMs to entry point Jayanagar Via Chandbali
Nearest Railway Station:
From Bhadrak – 70 KMs to Jayanagar entry point
From Cuttack – 140 KMs to Khola / Gupti entry point
From Bhubaneswar – 160 KMs from Khola / Gupti entry point
Nearest Airport: Bhubaneswar